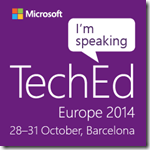 I'm currently in Barcelona and will be speaking at Tech Ed Europe 2014.  I'm presenting:
DEV-B341 Running a Global Massively Scalable Web Application on Microsoft Azure Web Sites
Friday, October 31 12:00 PM - 1:15 PM Room: Hall 8.0 Room B1
Track: Developer Platform and Tools
Session Type: Breakout
Topic: Microsoft Azure
I'll also be on hand to answer questions on our Azure Websites stand in the TechExpo, along with being around the event all week at the Welcome Reception, Happy Hour, Ask The Experts session and Country Drinks.  Looking forward to talking to lots of people about Azure Websites!